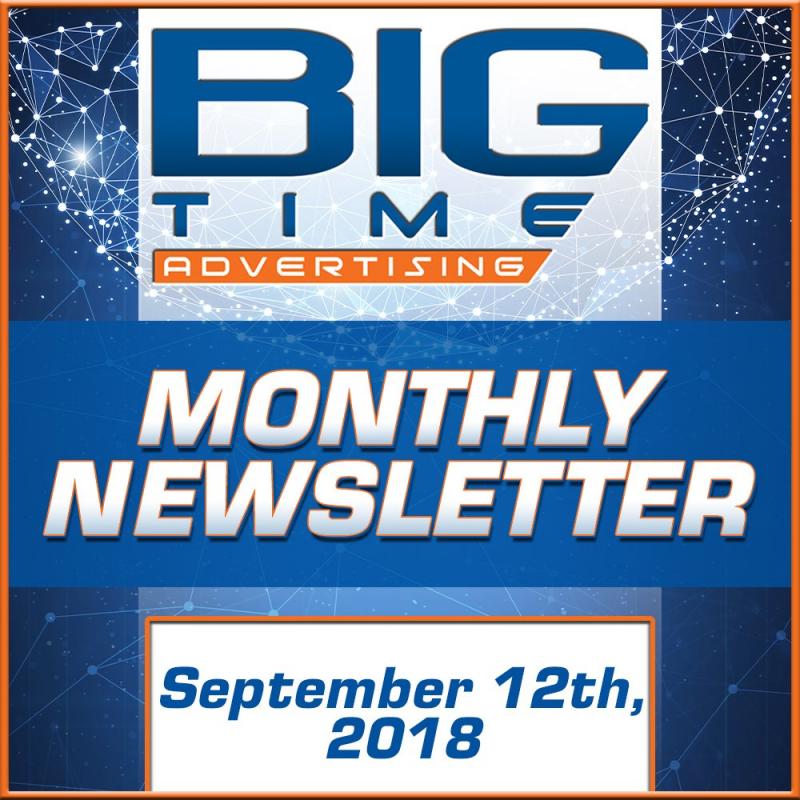 Big Time Advertising & Marketing Newsletter Sept 018 –
Summer sales have been great with many dealers reporting record months. Big Time is working hard to keep things rolling. Click Below to learn more about how our agency is partnering with your success this fall
Reviews Matter
It is so crucial for dealers to consistently check reviews on Google My Business, Facebook, and/or Yelp reviews online. Consider how many missed sales opportunities exist because potential buyers actively shopping to purchase your goods and services checked your below average reviews.
What we sell physically really does not matter, but OUR ONLINE REVIEWS DO MATTER. At Big Time Advertising, we regularly review and track our dealers' online reputation. Our services include consultation and training on current best practices available to ensure quality customer satisfaction is received. In addition, it is equally important to make sure the best reviews are showing up when potential buyers are looking.
Here are a few Big Time Tips about Reviews
90% of all consumers read online reviews

(89% read more than 2 reviews, and 15% read over 10 reviews)

88% trust online reviews when considering a business
72% say that positive reviews make them trust a local business more
86% of consumers will decide against buying if they read negative reviews
Customers are likely to spend 31% more on a business with excellent reviews
BOTTOM LINE: Check online reviews today, tomorrow & every day.
KEYS TO SOCIAL MEDIA SUCCESS
1. Content is King
Ads are perceived as annoying. When a post looks and feels like an advertisement people are exponentially more inclined to just scroll right past or worse yet, mark their account to not see posts like this in the future. This equates in missing leads, less brand growth, and a shrinking reach. Always strive to keep content engaging, relevant, and interesting for better delivery and results.2. Delivery is the Crown Prince
Creating great content is only the first step. If an ad looks great but doesn't sell a single unit, is it truly a great ad? Know your target audience to get ads in front of the right people and at the right time
3. Make It Easy
Most customers are "social media lazy. "Always consider this lack of motivation for potential consumers by using autofill forms (Yes, forms that fill themselves out) whenever possible. Also, always strong "Call to Action" headlines which more clearly spells out what is being asked of the user and desired buyer.
It is exhausting listening to Advertising Professionals that talk without walking the walk. With nearly 100 years of combined automotive experience, Big Time Advertising speaks and advises with automotive authority. Check out the newest podcast from our podcast series, Big Time Thinking, released every Monday. The Big Time Thinking podcasts are great for business development, personal introspection, sales team training, and more. Find all of them on iTunes, Spotify, Stitcher, and SoundCloud.
BIG TIME KNOWS SPANISH
Trivia Question: Name the top six Spanish speaking communities in the US?
Since 1990 the percentage of Spanish speaking households has nearly doubled from 7% to over 13%. When a dealership is not set up to cater to Spanish speaking customers, leads and sales are absolutely being missed.
Answer: Who would have guessed Chicago is 5th?
Los Angeles…. 4,429,478
New York/New Jersey…. 3,555,706
Miami/Fort Lauderdale…. 2,208,303
Houston… 1,690,224
Chicago…1,478,308
Dallas/Fort Worth….1,426,744
The Big Time sales team continues to grow our clients during the dog days of summer. We look forward to staying hot as temperatures drop heading into September. With growth we always look for innovative ways to help our clients and their dealerships exceed all expectations.
Welcome New Big Time Clients
J.D. Byrider in Joliet, IL
J.D. Byrider in Houston Hobby , TX
J.D. Byrider in Houston North , TX
STAY TUNED FOR MORE ADDITIONS TO THE BIG TIME FAMILY
Copyright © 2018 BigTimeAdvertising, All rights reserved