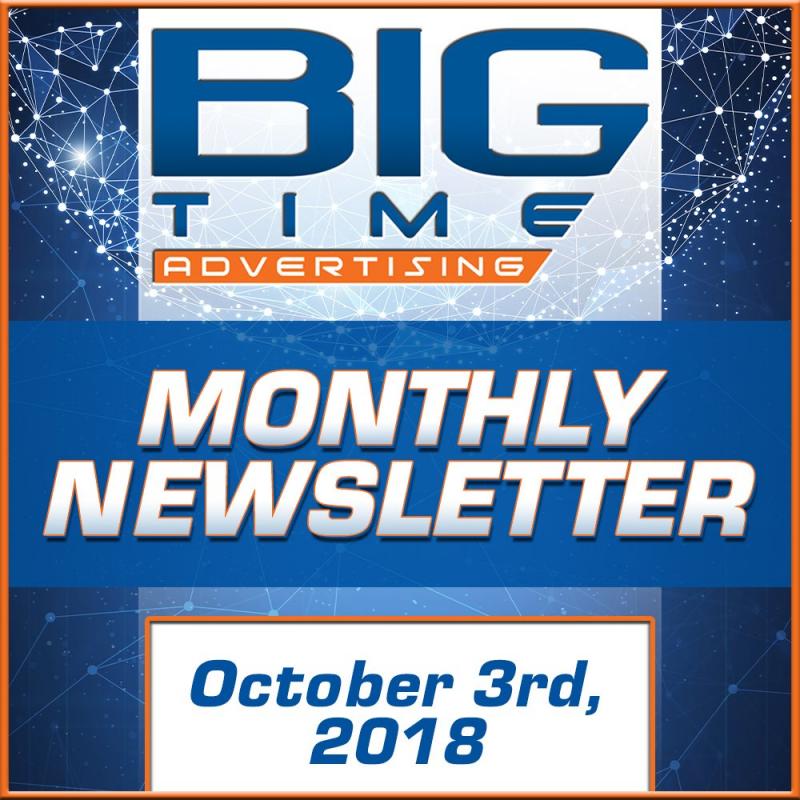 BIG TIME DEALERS
Welcome to October, the weather may be cooling but Big Time Dealers are staying hot. With our tailored marketing solutions, Dealers are watching sales skyrocket as the leaves fall. Let's take a look at what's new at our agency and start thinking Big Time this month.
Is Your Auto Dealership Using Google's Messenger Yet?
In a recent study of how our dealerships handled their online leads, they found that shoppers who received replies within 10 minutes or less were vastly more likely to visit a store than those who had received a slower response.
Top 9 Lead Response Best Practices:
1. Every Lead Matters
Don't cherry-pick leads. Have a system in place to manually or automatically provide a professional response to every sales inquiry you receive no matter where it comes from.
Always Respond Quickly
Your lead response time should be in minutes. Studies show internet shoppers who receive a text response within 10 minutes, are three times more likely to visit the dealership
3. Personalize Responses
Customizing your response will make customers feel more important. Buying a car is a big decision, so you want them to know you have their best interest at heart.
CLICK HERE TO VIEW THE FULL LIST @ GoWithBigTime.com
Optimized Images are the future of Digital Advertising but what does this mean for your dealership?
Quality Ads and graphics have to do more than pass the eye test in today's digital marketplace. Good ads communicate clearly and are easy to read. Unfortunately, search engines can't "read" in a traditional sense, so you have to optimize your ads to be read by both robots and your customers. This can be quite a daunting task to handle on your own.
There are many different ways to go about optimizing images, and each and every agency claims to have the best method. Big Time Advertising LLC doesn't simply brag about having the best images we let our results speak for themselves.
It is exhausting listening to Advertising Professionals that talk without walking the walk. With nearly 100 years of combined automotive experience, Big Time Advertising speaks and advises with automotive authority. Check out the newest podcast from our podcast series, Big Time Thinking, released every Monday. The Big Time Thinking podcasts are great for business development, personal introspection, sales team training, and more. Find all of them on iTunes, Spotify, Stitcher, and SoundCloud.
Social Leads Matter.
For some reason, there is a belief circulating amongst auto dealers that Facebook can't produce leads and when it does, the leads aren't quality.
That couldn't be farther from the truth. First of all, there is no such thing as a "bad lead." Social media has greatly improved their targeting methodology over the years and getting ads in front of in-market customers has never been easier.
A strong social media presence can really build trust between you and your audience. So when a potential customer trusts you enough to submit their info FOLLOW UP.
The Big Time sales team is definitely not cooling off with the weather. September was great and October is shaping up to follow suit. As we continue to grow, we always look for innovative ways to help our clients and their dealerships exceed all expectations.
Welcome New Big Time Clients:
Wholesale Trailers Now
STAY TUNED FOR MORE ADDITIONS TO THE BIG TIME FAMILY