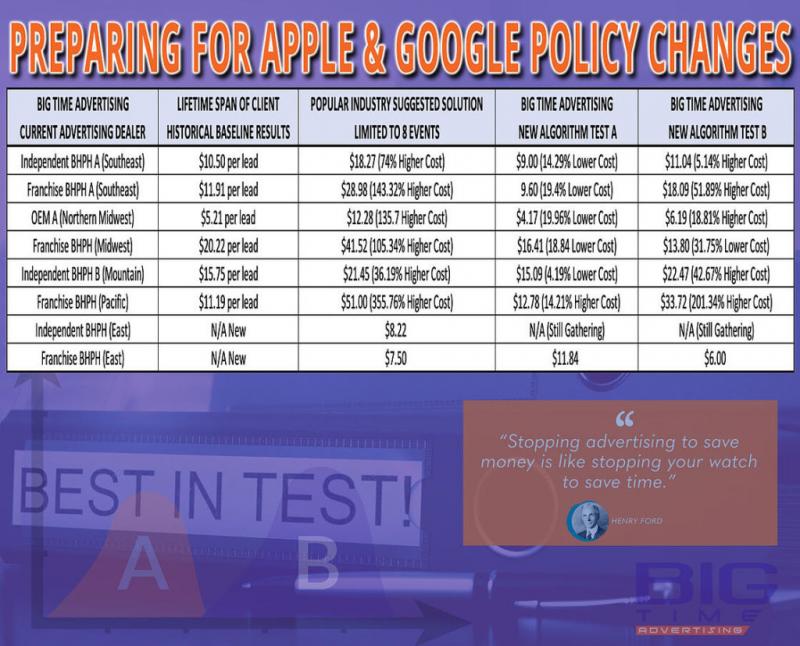 If you are not already you should be asking, is your dealership(s) utilizing data to do targeted Facebook ads? In fact, most dealers are whether they know it or not. What will happen when this data is removed from your campaigns. More importantly, will this major change affect lead volume and sales?
This change is unavoidable and will absolutely happen with the next iOS update. Rest assured, most advertising vendors, mediums, and agencies will not be fully prepared. Big Time Advertising has been preparing for this change since early Fall 2020. As soon as we were alerted to these changes even being discussed, we immediately asked what will this mean for our dealers? Our team has been running beta-testing in different automotive environments for nearly six months to closely simulate and analyze what the new changes will look like, how they will affect advertising efforts, and where would it be best to shift our dealer's sales in order to not lose speed and success moving forward.
If you are not sure what your plan is or how we are prepared to keep your digital marketing relevant and successful, then schedule a time to jump on a call with Terry and/or Bryson to discuss your digital strategy at your earliest convenience.